Buy Followers Buy Likes Buy Views

Cheapest SMM Panel For Resellers
Our
SMM Panel
offers you the possibility to promote your business on social networks with a high quality and a cheap price. AUTO-TH is the fastest and cheapest
SMM Panel for Facebook, Instagram, YouTube, TikTok, Telegram and Snapchat.
You can also earn money by joining our affiliate program or
start your own Smm panel
through our
SMM reseller panel.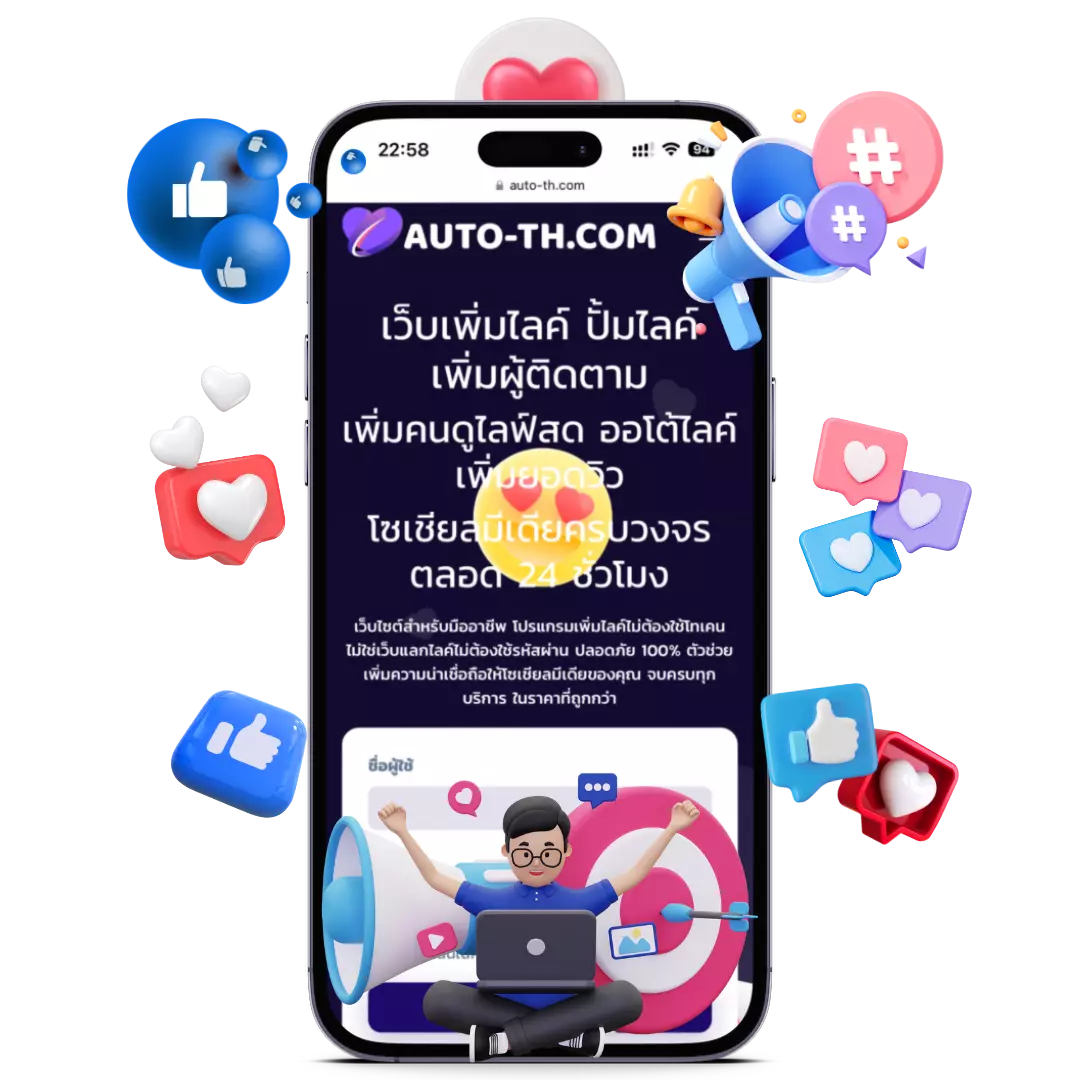 SMM (Social Media Marketing) is the use of social media platforms such as Instagram, Facebook, Twitter, Youtube and many more to promote yourself or your company. If you are looking for a way to boost your online presence, then your best choice is our SMM panel where we offer services to help you boost your online presence across all social media platforms at the cheapest prices.
Why you should buy SMM Panel Services
from AUTO-TH ?
Let us help you create your identity. in the online world quickly and efficiently
Most of our services are guaranteed. and highly efficient If the amount decreases according to the conditions You can notify the Admin to perform the top-up for free.
We choose to use a payment system that is modern, fast, and most secure. Immediate amount 24 hour automatic system
Auto-th offer cheapest price services in whole market. AUTO-TH can beat any smm reseller panel in market.
all our services It's a high performance service. fast increase Makes you not miss out on online marketing 24 hours a day.
Take your business to the next level with these 4 easy steps.
Start by registering and then signing into your account.
The next step is to choose a top up method.
Select the desired service
Choose the services you need and place your order easily.
You will be notified when your order is complete. It won't take long.

Take a look at the customer reviews below and learn about what you can expect when taking our survey.
After using the service from here, I'm very impressed. The sales increase really fast too. The Admin is kind, always answering questions and solving problems. Stable balance than others Cheapest ever
Easy to use, not difficult at all and can make money for us too. There is a full range of services for us to choose from.
At first, there were no customers. But after trying to use the service from here Now customers come to me every day. Sales increase.
Very impressed, saves a lot of advertising budget, easy to use, easy to top up, great!
Frequently asked questions in our system
Our staff selects the most frequently asked questions about the system.
We are a service provider to increase the credibility of the Social Media platform, helping to increase the number of followers, likes, views, making the customer's Social Media account reliable.
All our services are 100% safe. The system uses only links. It doesn't ask for a key or access to the customer's backend. Make sure that our service is 100% safe.
Why choose to use our services ?
Because we are a service provider to increase followers, likes, views on all platforms that are the most popular. With a system that is highly efficient, fully integrated, both Thai people and assorted countries stable, fast, cheapest
The price is cheap and the work is really good or not?
You can be 100% confident that all our services are of the highest efficiency. with the lowest price rate Because we are the main server provider in Thailand. with a system that is updated all the time Enhance your social media accounts.
Our web system is very easy to use. Just customers choose the service category they want. Bring the link that you want to increase sales. and enter the desired amount Press to order now.
Can we earn from your website or not ?
Of course, we are the cheapest service provider.
For example: Hire to increase Facebook fan page likes.
Cost price 150 baht per 1,000 followers
You can set the price for increasing the number of followers from 450-650 baht / 1,000 followers.
(Set profit as you want)
The difference is your profit. In this example, the price is set at 650 baht /1,000 followers.
( 650 - 150 = 500 baht )